Regular price
$812.63 USD
Regular price
Sale price
$812.63 USD
Unit price
per
Sale
Sold out
This one-of-a-kind, 100% cashmere cape is one of the most exclusive treasures in our handcrafted collection.
Each cape is unique and is LIMITED to 6 PIECES WORLDWIDE in the respective color combination.
It is made of very soft 100% pure baby cashmere and measures 140x200cm.
The cape is so soft that it can also be worn as a scarf and so light that it envelops the wearer in a touch of unique luxury in both winter and summer.
This cape is made of 10 color frames and is particularly expressive in this color combination. In modern German, an extraordinary "it piece" for the fashion-conscious wearer.
The cape comes with a sustainable, yet elegant packaging made of paper and the ESVARA logo made of felt.
The limited creations by STELLA ESVARA are lovingly handcrafted.
The combination of traditional craftsmanship and fair production results in unique cashmere creations with perfect attention to detail.
It requires more than 20 work processes, from the carefully hand-combed extraction of the high-quality cashmere goat yarn to the hand-woven (here diamond weave) cashmere cloth processing. It is the finest cashmere quality obtained in a fair trade process.
In Nepal, this craft looks back on a very long tradition, which is only produced here sustainably and fairly in loving manual work.

In further steps, the motif is applied with traditional screen printing and colored with organic colors. Each color print is made from a different frame and each color in this cloth (cream, mauve, marsala, pink and blue) is another separate manufacturing step.
Each motif, here from the "FLAMINGO GARDEN" collection, is drawn by the artist with ink (not graphically created on the computer).
In the designs, the artist STELLA ESVARA refers to her memories of many journeys and distant countries in which she lived, as well as their different symbolic language. It thus combines various cultural aspects into a modern, aesthetic overall picture in which the memories come to life and "travel further" to the respective owner via the product.
"Each cashmere cloth, lovingly consecrated, should give the wearer soothing warmth and positive energy and pass on a touch of the soul of my precious items made with love and passion to her. Due to the limited quantities, the manufacturing effort is much more demanding, but every product goes through my hands and I fulfill my wish to get in touch with every wearer personally. So far, I've been fortunate enough to know every single customer personally and to be able to tell her something about the history of the design."
GOOD TO KNOW:
With every purchase of a limited product from STELLA ESVARA, you support a day care center run by hand weavers in the Himalayas in Nepal.
Our cashmere yarn from Nepal is combed by hand (not sheared) and is therefore carefully obtained from the undercoat of the cashmere goat living in the Himalayas.
OUR CREDO: "Passion for luxury with soul"
For me, this means something very special, high-quality, handmade with a passion for craftsmanship, to treat yourself with joy, but always to support others so that the cycle of life is preserved for everyone"
MATERIAL

100% Kaschmir, handmade, fair trade, mehr...
MANUFACTURE

Motiv per Hand von Stella Esvara mit Tusche gezeichnet, Bio Colours, Siebdruck-Print, mehr...
CARE INSTRUCTION

Handwäsche, kalt, mildes Woll-Waschmittel, chemische Reinigung möglich, nicht auswringen, kein Wäschetrockner oder Bleichmittel verwenden, liegend trocknen. Mehr...
BENEFIT

Mit dem Kauf jeder Stella Esvara Kostbarkeit unterstützen Sie eine
Kindertagesstätte von sich im Exil in Nepal befindenden tibetischen Familien. Ihre Kinder können hier unterrichtet werden, während die Eltern in der Kaschmirweberei unter fairen Arbeitsbedingungen
(Goodweave) ihren Lohn verdienen. 
MIX MATCH

Ganz besonders sind bei den STELLA ESVARA Kollektionen die perfekte Kombinierbarkeit aller Materialien und Farben unter den verschiedenen Kollektionen. Es gibt zu jedem Kleidungsstück den passenden Kaschmir-Schal sowie Masskonfektionierte hochwertige Stretchvelours Echtleder Hosen.
Share
View full details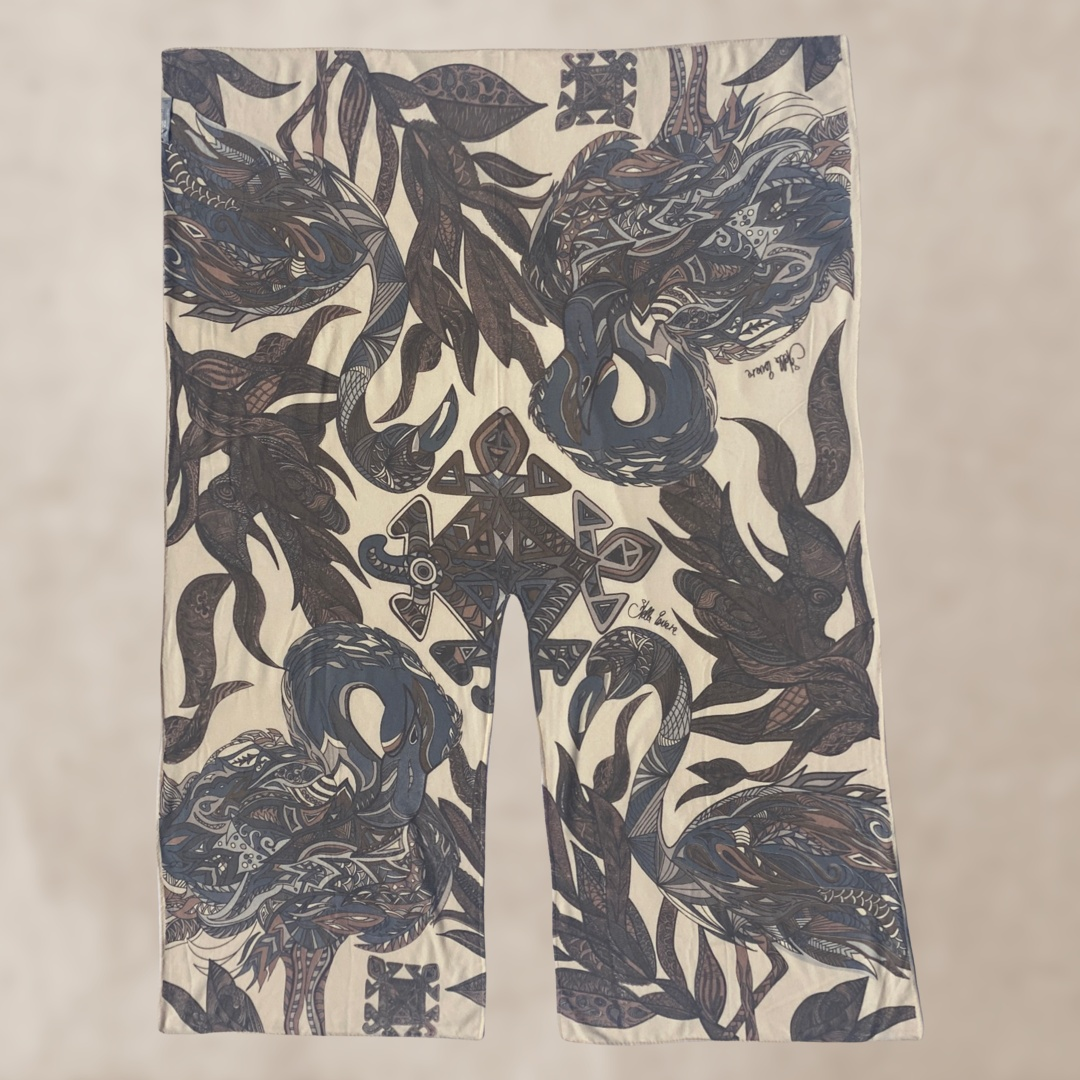 Haben Sie noch weitere Fragen?